Jul 03, 2015
How To Grow Lots More Tomato Plants
Would you like more tomato plants? Have you grown from select F1 seeds, or did you buy tomato seedlings?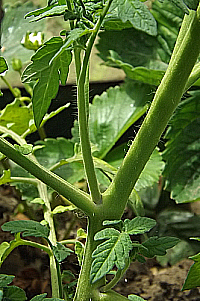 May be you bought just 4 plants but could have easily grown 10. Perhaps your F1 seed packet contained very few seeds.
Now where cost limits growth - as economists might say - you're going to love this tip for when you just don't have enough and like me want more. Because although your plants are expensive, propagating them is easy.
First Let's Get Familiar With Tomato Plants & How They Grow
There are 2 main types of tomato plants.
Determinate or Bush Tomatoes
These branch and grow to a determinate size, rather like a bush. They need more room to spread but don't really need any support. 'Cherry Falls' and 'Shady Lady' are examples of determinate varieties, 'Roma' and 'Marmande' are described as semi-determinate.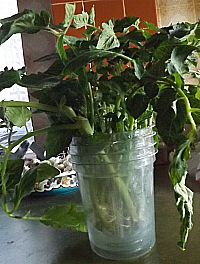 Bush tomatoes tend to produce all their branches early in the growing phase. So although you can take cuttings to grow more of them, this reduces the yield from the original plant.
Nevertheless, just 1 or 2 cuttings from say 3 plants could give you 6 to 9 plants total. They root and grow quickly.
Note that bush tomatoes are more likely to produce thier whole crop more or less together. You will be extending the vigorous phase of your tomato season.
See below about growing them in pots.
Indeterminate or Vine Tomatoes
These are more common and include varieties such as 'Alicante' 'Gardener's Delight', 'Shirley'.
Vine tomatoes produce leafy axillary shoots that grow from between the leaf stalk and main stem. We usually pinch them out to concentrate resources into flowers and fruit. Vines grow straight up supported by trellis, poles or wires from above.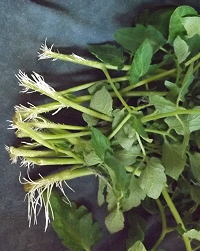 Axillary shoots on vines are ideal for taking cuttings. You will be rewarded with still vigorous vine plants when age and disease are catching up to your earlier grown plants.
If pot grown they can be brought inside your patio window or sit on your window sill. Container grown plants could be moved outside during the day.
Taking and Growing Cuttings Is Easy
Axillary shoots can often be snapped off cleanly. Don't take shoots with flowers or else remove the flowers on cuttings.
Use a sharp clean knife. Place cuttings under clean running water, use sharp scissors for a clean cut, then swiftly place in a container of clean water and place in a light position.
Several cuttings take up water very quickly so do ensure the cut ends remain submerged, preferably deep, as roots will branch out of the side.
I prefer clean water to compost because it is cleaner. As soon as roots appear the cuttings should be placed in compost. You will have strong new plants in no time.