Jun 20, 2015
Thornless, Fragrant, Climbing Rose
The View From My Window Is Roses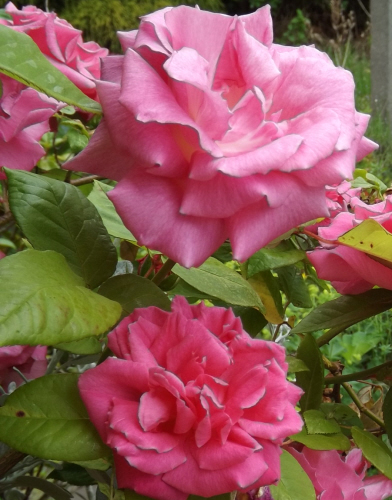 View from my window of climbing Rose Zephirine drouhin.
There is no way to properly express to you the beauty of the rose growing around my window. I am looking at large, perfect, pink rose flowers. As I look through my window it really feels like the day is cheering me on. And that will last for very many months to come.
Rose Perfume
Again, nothing can communicate the exquisite fragrance of my splendid climbing rose. No feeble scent this. Open the window and my nostrils are caressed with the perfect rose perfume.
Thornless Rose You Will Caress
The climbing rose that I have today is the same one my father selected over 30 years ago and it still grows strong and has been reliable every year.
Zephirine drouhin is not only a climbing rose, it is also Thornless***. Of course that's a big plus for the gardener when it comes to pruning and tying in. For the rose admirer, the children and pets, there's no danger of a scratch when they sniff it.
Your Garden Bower Adorned With Scent And Beauty
So just imagine, if you can, sitting outside in a sunny bower, surrounded by gorgeous pink flowers and that perfect rose perfume.
Mine is growing on a west facing wall and this variety in particular is well hardy. If I ever needed more stock for my garden - it would be easiest to buy new - as roses are grafted onto a root stock. But if you'd like to enjoy this climbing rose in your garden, I've found a few suppliers in your country.
Zephirine drouhin available in the USA on this link.
and
Zephirine drouhin in the UK
on this link.
A Rose Bower / Arch Will Be Lovely In My Garden
Actually I also have plans to build such a bower, with a seat, positioned inside my garden. Rose arches and garden seats are here
An Arch and Garden Seat are available here.