Apr 11, 2014
How To Make Your Earth Right For Seeds
Have you been out sowing seeds? It is the cheapest way to fill your garden with lovely plants and I recommend you do it every week if not every day.
I'd like to show you a good way to prepare your garden soil for seeds - See below...
At this time of year you may have seeds germinating early in boxes indoors. I have lettuce seedlings coming up in my greenhouse already. They will be my first lettuce crop in 2014 and I will transplant some of these outside soon.
Seeds sown outside in the open will be much slower and later. But from the earliest onwards, my supply of vegetables will be continuous.
And so it is important in organic gardening to keep sowing. Because there will be some plant failures. Yet when you always have a wide variety of seeds on the grow every week, then you are sure to get results. And variety is great to have...
Clod dries from soft/sticky & black
to friable light grey.

Clod breaks open cleanly when earth is right for cultivation.
Summer is coming the earth is getting warmer.
For my garden friends in

Australian & New Zealand

- I am developing links to your national garden sites - you will be able to enter your nationality one-time after hovering on a link.
Very soon my garden earth will change from being black soft and sticky to friable and drying to light grey. A clod of earth will break open cleanly when it is just right for cultivation
see picture
.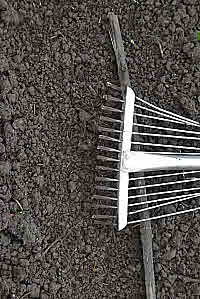 Adjustable Spring Rake
See rakes on garden tool shed & click Rakes link.
To prepare a seed bed for small seeds it is very important to break the soil down into bread crumb sized particles. I find the adjustable width spring rake to be an ideal tool.
Spread the rake so the tines are open a small amount. Then move the tines from side to side along the seed bed that you are cultivating. Hold the tines so they are more or less of a right angle to the direction of travel.
In this way many tines with small gaps between break down the soil into a fine texture. I find this to be a highly effective method.
You can find Adjustable Spring Rakes by clicking the link below and selecting the link to Rakes.