May 16, 2014
Plant Your Tomatoes Deep
Hello again, and a special welcome to greenhouse and tomato growers. This year I'm growing 4 varieties of tomatoes, all from seed.
Variety Is The Spice Of Tomato Life
They are 'Ailsa Craig', 'Maskota, 'Harbinger' and 'Tigrella'. Stripy 'Tigrella' tomatoes are now being planted outside among flowers. 'Ailsa Craig' and 'Maskota' are mainly for my greenhouse.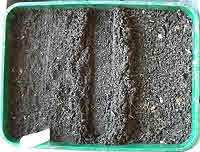 My seed tray contains home made compost
The top picture shows homemade compost (more on that later). Weed seedlings have not been much of a problem.
Now the tomato seedlings are robust and ready for planting. Note that seedlings should be handled by the leaves or roots. As stems conduct water and sap, and support the foliage, flowers and fruit, any damage has serious consequences. However in my experience the most likely cause of damage will be due to slugs, or at the extreme by wilting.
Grow Backup Of All Seedlings.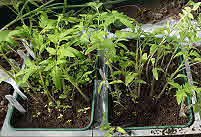 Tomato Seedling Tray
4 varieties from seed.
Spare seedlings for back up.
You will probably grow more plants than you need. When you've planted your seedlings always keep hold of the extras until your main plants are well established.
Already one stem has been grazed but it was easy for me to replace the whole plant.
Tomato Fertilizer?
Modern plant varieties are bred for high yields. They are therefore more demanding of nutrients. This is my excuse to add organic fertilizer as well as garden compost.
However, I am conducting experiments yet again to see the affect of leaving out one or more organic fertilizer.
Preparing A Planting Hole.
I dig a spade deep hole and add garden compost (+ or - organic fertilizer). To this I add wilted Comfrey leaves. They release lots of nitrogen and even more potassium - that's ideal for fruit.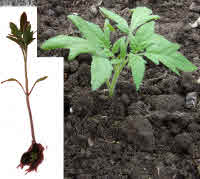 Plant tomato seedlings deep.
Then I replace the soil, breaking down the lumps as I go, and make a narrower but deep hole with my trowel.
Bone Meal adds Nitrogen, Calcium (to help prevent end rot) and Phosphates for good root growth. I may or may not mix it in (results later).
I mix in Seaweed Meal. This is very important for adding micro nutrients, potassium and plant hormones. Elsewhere I experiment by replacing hormone rooting powder with Seaweed meal.
Plant Tomatoes Deep.
Finally I plant my seedling in the deep hole. Deep roots are kept moist and have access to deeper nutrient layers that may be less salty.
Also, the buried stem grows adventitious roots providing more root absorbing power.
Well that's it. I'm looking forward to a big crop. All the best to you for organic growing, exercise and healthy eating.