Aug 02, 2013
Ventilate Your Greenhouse Garden
Well here's a quick look at my packed greenhouse.
I decided to fill it with everything I could get in - details below...
First a quick word on greenhouse ventilation.
Today, after very clean growing, I discovered some strawberry fruit overcome with furry botrytis fungi. There are 2 reasons for this outbreak.
I've not been ventilating. Concentrating on not letting temperatures go too high I forgot about the need for ventilation. Today I opened the second window, widened both side ventilators and left the door open an inch.
Second reason is that I've been unusually extravagant in watering this year with my underground seep hose. The soil surface usually remains dry but I've had too much water going in overall and the pathway is damp.
Bye-the-way I added liquid feed inside my greenhouse and outside on my potatoes see next post. Don't over do high potash liquid feeds as you'll get blossom end rot and hard growth.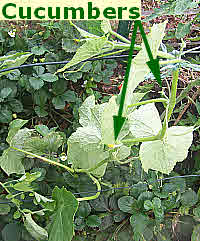 And here's a picture of my cucumber 'femspot'. I'll post another picture when the fruit are ripe for picking.
2 melon plants are growing up and now as they reach the top the leader will be stopped. Several side shoots will be trained along horizontal wires allowing just 1 melon fruit to grow on each side lateral stem.
What's in my greenhouse?
There are 2 varieties of strawberries - still fruiting - 6 varieties of Chilli Peppers, 4 varieties of tomatoes, 2 x Cucumber 'femspot' 2 Melon 'Sweetheart' several unknown cucurbitaceae which may turn out to be gourds or melons - I mixed up the seeds.
All the best to my fellow gardeners for a good greenhouse crop.