Mar 05, 2014
Your Garden Thrives When Nature Thrives
Is this the last year that you will put up with your crops and flowers being eaten by pests? Is this the year that you will resort to using pest killers?
More Frogs please - they are voracious predators.
If you are used to everything being very neat and tidy then you may not be leaving enough room for natural controls to thrive.
More than simply not using poisons, organic gardening also involves actually doing something different. It involves nurturing wildlife so as to achieve natural control through balance.
Remember: by killing off the natural controls or by not leaving any room for them to thrive, the pests in your garden get a free run at your plants.
However, by encouraging diversity in your garden, nature controls the pests for free.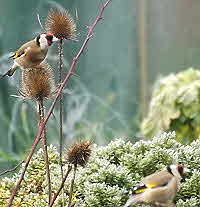 Goldfinch feeding on Teasel in February - but only because I didn't tidy it all away
You want more from your garden.
Now I know life is not perfect. Some damage will occur. However, by ingenuity we gardeners can add in some smart methods that work with nature.
Among these are biological controls, resistant varieties, companion plants, and barriers. I'll be writing more on using all these this year...
But one of the most important controls is nature itself and the eco system you create around your home.
Frog spawn eggs look similar to a lens that concentrates the suns rays to warm the embryo.
Birds are splashing all over the pond but they don't seem to have a taste for eating the nutritious spawn. Nature knows how to survive.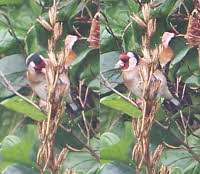 Goldfinch are beautifully colorful with a lovely summer song.
Later I'll be posting my methods on how to combat pests around your plants: slugs, carrot root fly, beetles and more... Be wary of using anything that is an
indiscriminate killer
even if it is organic in make up.
Continue reading "Your Garden Thrives When Nature Thrives"