Garden mulch is a protective layer put on top of the soil. Its use varies from making ornamental garden paths, to weed suppression and an aid to plant culture. See links below for specific types of mulch -
Wood Chippings after 12 months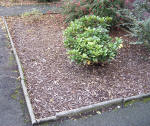 WHAT GROWS HERE?
ADVERTISING FEATURE:
There are many types of garden mulch. You will select them for different purposes and use them in different ways. Many are organic such as wood chip or grass cuttings, some like polythene or gravel are not actually organic but nevertheless they're put to good use in an organic garden. Investigate the 3 catagories above.
When To Mulch
Autumn is the main time for mulching. Then it retains heat in the soil over winter giving a higher starting temperature in the new season. It also protects delicate soils from the ravages of winter rains and erosion.
In spring the mulch can be removed before planting and sowing and to let sunlight warm the soil. Once the new plants are established in early summer, new garden mulch can be applied to conserve soil moisture through the dry summer months.
'No dig' gardeners and organic gardeners of raised beds may apply mulch continuously. Here an organic mulch is breaking down over time to form good organic soil.
An important reason for adding a layer of garden mulch is simply to keep the soil covered and protected where no plants are growing and especially when the surface is open.
Permanent areas of bark or gravel mulch can be established around conservative features such as ornamental trees, shrubs and pathways.
How Various Garden Mulches Improve Your Organic Garden
Attractive appearance and smell
Suppress weeds, reduce weed seed import and germination
Protect soil from treading and compaction - Suitable for pathways and play areas
Protect soil from erosion and washing away due to rain pounding and runoff,
Reduce water loss and conserve moisture in the soil during summer
Keep soil surface and plant roots cool in summer
Help retain warmth in the soil over winter for earlier spring growth
Protect soft fruit e.g. strawberries, and others, from soil contact and rot
Can reduce slug and snail activity
Organic mulches breakdown to fertilize and condition the soil
Encourage earthworm activity which itself improves drainage and fertility
Problems After Incorrect Choice of Mulch or Application Method
When loose and light they can be blown or kicked about
Can prevent aeration, killing roots or causing them to surface and dry out
Can introduce excess carbon into the soil causing nitrogen shortage
Can increase acidity (reduce ph) causing problems such as nitrogen shortage
Can result in weeds growing
Can cause rot to develop on plants
Some mulches have an untidy appearance
For details
check out my pages
on fabric/sheet, organic and landscape mulches.