More With A Gardening Power Tool
* For a consistently neat & even finish,
* For larger gardens you do more & get finished on time,
* And when gardening is getting too much for you to do.
No one should be kept from the pleasure of growing a beautiful and productive garden when
gardening power tools
are available to help you out -
see below
.
Whenever I can
, I will garden without burning fuel, without the noise, and without needing to store a machine. But it's always
better to be
cultivating and
growing
, and never acceptable to be deprived of the pleasures of gardening.
Amazingly, some gardening power tools can
actually do a better job...
That's because they produce a more consistent and
even finish
that's harder to achieve manually. In the right hands they can improve the look of your garden and leave you time to spare enjoying it.
Multi-Function Trimmers, Edgers, Cutters...
A great
new
tool kit, well-balanced, one motor does all. You can:-
cut the tops and sides of tall hedges,

use a mini-chainsaw on larger branches,

a string trimmer (strimmer) for hedge bottom and long grass,

raze saplings and woody stems to the ground with the tough brush cutter.
All-in-one tools are available on this link.
Hedge Trimmers
Hedge trimming is a repetitive action that can be quite straining needless to say time consuming. Motorised tools repeat this cutting action many times a minute and get through tougher stuff with ease. That leaves
you fully in-charge of shaping the cut.
The result can be more work done and a high quality finish. Because these machines take some effort out of the job you will be more inclined to use them rather than putting the job off for a longer time.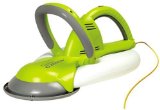 And that shows in the results you achieve too.
You'll find more about the suitability
design and use of modern hedge trimmers
for your job here.
Lawn Mowers
Most small lawns can be adequately managed with a push mower. However the advantages of a motor mower include:
Cylinder mowers with more blades cut easily to give you a finer finish,
Rotary mowers take tough stuff in their stride,
Take the effort out of sloping lawns,
Many machines collect and pack more lawn cuttings in a box,
For larger lawns or less fit gardeners, ride-on-mowers save the day.
The next links provides information on the many types of
gardening power tools for cutting grass
- rotary mowers, hover mowers, mulch mowers and cylinder mowers along with lawn scarifiers.
Garden Shredders
There are no manual shredders available for gardening. Yet cutting up waste is time consuming while branches and hedge cuttings are hard to move. A garden shredder can solve these problems and provide you with valuable wood chip and mulch.
And so for many reasons garden shredders are useful gardening power tools. They provide you with an opportunity to recycle and save on waste disposal. You can learn more from my long experience of
using garden shredders
- on this link.
Garden Cultivators / Rotavators
There's information on how garden cultivators might fit into your organic garden
on this link.
... ... But first ! !
What if you could have
Just one power pack for
All your garden power tools?
That would certainly save on storage space, and maintenance issues. It also adds hugely to the range of gardening power tools you might have at your disposal. So if like me you dream of versatile interchangeable gardening power tools then you're not alone.
Because on the next links you'll find tool systems that are simply organic in style with - one power pack that can be applied to different tool heads for different jobs. And that should make you a saving over multiple separately powered machines.
The
power packs and tools
on this link are what I'm looking for - they're
light and portable
... which means I can easily carry them to another garden or allotment.
Also take a look at the pole hedge trimmer and strimmer on this link. You can change the tool end between a chain saw for cutting hedge tops and perhaps sides, to a string trimmer or strimmer.
Strimmers are excellent for cutting vegetation that borders closely to walls, raised beds, and posts. They will also edge the lawn and reduce rough growth where fine lawn mowers get jammed. The
pole hedge trimmer
is on this link
Choosing A Power Source For Your Tools
One of the biggest decisions when buying garden power tools is whether to go for electric or gas power. And with electric you also have cordless and solar powered units to choose from. You'll be better informed as to the right choice after looking at that the relevant links for your garden tool shown below.
Multi-Function Tools - Long reach, Easy to carry & Does the job, Save with just one motor - in Your Country select >> or
Get the details on design and use of individual gardening power tools right here at the-organic-gardener.com
Click Below For Your Page
<!- PAGE TAGS AND T2 LINKS -->
For more information on organic gardening and garden tools follow these links:-
Check out my Garden Tool Shed
for information on the most effective gardening tools and methods including my favourite
interchangeable manual tools.
Garden Directory
The UK's most exclusive garden directory only containing hand picked quality sites.
ALSO on The Organic Gardener:- <!- START OF TAGS ++ START OF TAGS --> <!- END OF TAGS ++ END OF TAGS --> <!- END OF T2 LINKS ++ END OF T2 LINKS -->

My Neighbour's Garden
Do you run a gardening website - with information to interest my visitors? To set up exchange links from/to suitable pages - click here.





^Gardening Power Tools from the top