People can be put off acquiring ergonomic garden tools because they look so radically different. They are sometimes associated with disability, but
don't underestimate their value
. For many gardeners they are superior to normal tools.
Where traditional tools are designed around the job and a manufacturing process, ergonomic garden tools are designed around the gardener. In this sense they are organic. It means, for the effort you put in, you get more than normal out.
However, the different ergonomic designs usually require a different technique for using them see below.
Take for example the 'Lite Lift' - dutch hoe, soil rake, leaf rake, and compost fork - illustrated below.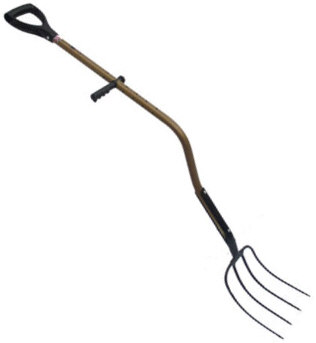 A perculiar bend in the shaft makes the upper part of the handle work in a more horizontal position than normal. So the gardener has a more upright posture.

Instead of pushing the top of the shaft down and forward with a twisted wrist, it is pushed with...
...a comfortable fist grip of the fully height adjustable left or right handed side bar.
Gardeners who normally use their right hand and shoulder to push from the top now adopt the reverse hand position and push down by extending the elbow. The lower lifting hand now controls the tool angle from the top by leverage.
How to use normal tools
.
These tools are very light and hard wearing. Click link to find
more about 'Lite Lift' ergonomic garden tools