You can see from the picture how 'fall gardening' (autumn in U.K.) can produce a pretty scene for small gardens. But there's usually a heap of jobs with leaves galore.
Check out on this link how to make the clearing up part of your gardening that bit easier to do
.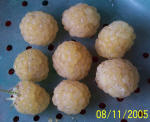 Above are samples of my Raspberry & Potato harvest
Small WheelEasy picks up & moves stuff

Gardening
jobs to-do are itemised on this link
. Don't forget that Fall Gardening plans will include: Thanks Giving Day, Harvest Festival, and in the U.K. Halloween, Duck Apple and Bonfire Night.
see here
.
So why not plan a special fall garden that displays richly coloured leaves and berries with end of year flowers and pretty solar powered lights so you and your friends can enjoy the still warm magical evening air ...add the smell of cooking mushrooms and bacon...
Truffles, Shiitake, Oyster Mushrooms, Juicy Buttons...
Fall gardening with mushrooms brings a rewarding harvest. U.K. gardeners grow an interesting range from mushroom growing kits to fresh logs containing the sporn inoculated dowels are available... The most delicious of mushrooms are also available on the above links, include: several types of prized Truffle fungi supplied with Birch tree - a cost effective means to an expensive delicacy.
American gardeners I'll be bringing mushroom growing kits back to the home of the organic gardener soon. I'm very glad to see these interesting plants in cultivation. I do look forward to them during my early spring and fall gardening activities.
Flowers: Plant spring bulbs - Strike cuttings into well-drained compost, water, cover in polythene, leave in cold frame - Dig up, divide & replant perennials where necessary - Remove annuals to compost heap - Plant out biennials - Remove primulas & Christmas Rose to greenhouse to force flowers
Tidy up: Clear up & bag dead leaves to make leaf mold or to mix into compost heap later. Shredding speeds the process - Remove old pea/bean netting & clean canes
Lawns: Scarify & aerate lawn, & rake in autumn feed, or sand if badly drained - Prepare soil & sow new lawns - Lay turf lawns - Apply leafy compost mulch on small areas for spring grass sowing. more on lawn care.
Rotation & Soil: Sow green manures: Medicago, Beans; & Phacelia in tunnel houses - Dig in spring sown green manure - Dig out perennial weeds - Dig in manure or garden compost for next year's beans or potatoes - Don't work soil when it becomes saturated & sticky - Mulch to protect plants & soil for winter
Protection: Cover outdoor tomatoes with polythene to extend season - Store half-hardy plants & lift root vegetables for storing - Place glass rain cover over alpines
Secure: Cut out dead, diseased or broken wood, secure fruit branches - Tie in loose branches. more on pruning here.
Fruit: Remove summer raspberry & blackberry canes tie in new canes - Plant new soft fruit - Strawberries: straw mulch around autumn fruiting varieties; root new strawberry runners; discard 3-4 year old plants
Plant/Transplant: While soil unfrozen plant trees, shrubs, new perennials & biennials, transplant spring vegetables - all with plenty of garden compost. more on moving shrubs here.
More fall gardening to-do's will be added later...
See The Organic Gardener's Diary Blog.
Stay Warm, & Dry
Leave The Dirt in the Garden
Fall gardening is, of course, a prelude to winter. A cold chill reminds us of the inclement days to come. You will inevitably think about wearing warm clothes, gloves, hotties, and protective clothes like over-shoes. Breathable & waterproof gear is an asset for comfort and protection.
Check out on this link how to make the clearing up part of fall gardening that bit easier to do
.
You can turn all those fall leaves into a valuable seed and potting compost - How to make leaf mold & use it.
>
You Can
Go From Leaves
>
To Leaf Mold:
For Seed & Potting Mixes
Gather together > move the pile - shred & move the pile > recycle - dispose > make leaf mold and garden compost.
Find tools and methods to clear up fall leaves easily here.
For lawn-clearance rakes with curved tines are best because they lift leaves and hedge cuttings off the grass without damaging it. My page on rakes details the advantages of a whole range of different rakes fit for purpose. Find a suitable rake here.
You'll find that
adjustable rakes are more versatile than the conventional spring rake. You can alter the spread of the tines for working in tight spaces between shrubs, or to gather a large pile on the lawn for example. Reducing the spread a little can make raking more effective. They also store better with the tines folded up. These 2 links both go to highly versatile interchangeable tool heads and job by job specialised rakes are described here.

^ Top of page