The Garden Fork Makes Light Work
* A favourite tool of many gardeners,
* Discover the improvements made to fork design,
* Tackles weeding, cultivating, digging & moving stuff...
The garden fork is the favourite tool of many gardeners and used for: digging over, weeding, cultivating, managing compost heaps and moving fibrous stuff. But it is especially useful for freeing the earth when lifting roots and tubers.
When lifting potatoes there's less chance of slicing the spud with a fork. Not surprisingly specialised forks are available for many different jobs with different sizes, tine spacings and curvatures...
more below.
You'll find information below on using a traditional fork and it's alternative designs. But
let's start with something different
-
a significant improvement to the garden fork known as the
Spork
- along with a useful range of Spork alternatives. And I mention other tools that make good alternatives...
The Garden Spork designed by Robert Todd
Robert Todd's Spork is an exciting new tool for gardeners. It combines the strength of a spade with the versatility and reduced weight of a fork. You get a spade and fork all in one garden tool. Here's what it does...
Points penetrate tough ground,
Blade slices through tough roots and weeds,
Lighter than a fork,
Can be used to move earth, and riddle the soil,
Useful for cultivating and gets more done than a conventional fork,
Moves heavy clays more effectively...
Made by De Wit, Sporks are skilfully hand-crafted in tough Boron Steel and self-sharpening. They are made to last. Bear in mind that neither sporks nor forks are intended for levering rocks out of the soil.
A whole range of alternative Sporks has been spawned - Sprake, Long Pull Spork, Tree Spork, Hand Spork and more... ... These exciting gardening hand tools all have the versatility, strength, and sharpness to cut through tough earth and weeds.
THE GARDEN CLAW
You may think this Garden Claw tool looks gimmicky, but I find it does a good job. And there are situations such as double digging where it is particularly useful. It can also be used for cultivating soil, mixing compost, and working organic fertilizers into the soil surface.
The best version of this tool is the Garden Weasel
Gold
Garden Claw Cultivator. This has 2 handles ideally designed as levers to twist the shaft which is height adjustable. Curved teeth on the tool head dig in and lift the soil.
The professional technique has an upright stance to briskly bounce the tool while working your arms back and forth. You can quickly cultivate a border soil like this without bending.

For double digging the long shaft lets you cultivate the bottom of holes or trenches without bending,
Use a comfortable upright stance to cultivate,
Your arms provide all the power and the handles provide leverage,
Use a brisk, rhythmic, bouncing and twisting action to quickly cultivate border soil,
The Garden Fork is King For
Working Among Roots And Close To Your Plants
And further down you'll discover several different styles of garden fork perfectly
designed for the gardening jobs
you do.
Below I explain a couple of effective techniques to help you
weed
,
cultivate
, and
dig
with a garden fork.
Ways to Use a Garden Fork for Different Jobs
TO CLEAR UNDISTURBED WEEDS
Many weeds e.g. 'Couch Grass', 'Nettles' etc... spread into undisturbed ground to form shallow underground mats of stems. I use this method under established fruit trees. -
NOTE:
the weeds invaded the ground from beyond, but
sheet mulch
would have prevented this.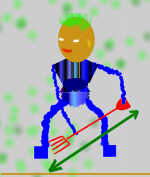 Stand side onto the job like a fencer with knees bent and leaning slightly toward the leading leg,
One hand on the handle the other lower down the shaft,
Stab the fork into the ground at 45 degrees or less,
Lever the soil up from the handle end,
An intact mat of weeds comes up,
You may bend your back a little but use the tool to give you support.
This beats the rotavator because it doesn't chop up the weeds. Simply shake the soil free and dispose whole clumps of weed. And it saves the established tree roots.
To easily
cultivate between plants and among roots
see the compact, shorter tined
shrubbery forks on links below.
Types of Garden Fork
Compost fork, manure drag fork, border fork, potato fork, shrubbery fork, digging fork, and pitch fork... These tools are specially designed for their job.
Compost Fork - slightly splayed and curved tines used for moving loose fibrous material,
Digging Fork - a robust tool with straight sometimes flattened tines to break the earth open,
Border Fork - a narrower fork of lower stature usually with inclined handle,
Potato Fork - fewer tines that are curved to lift the tubers free of soil and with a short handle to facilitate close-up work.
Shrubbery Fork - shorter tines and shaft for working in the confined spaces between and around tree roots,
Pitch Fork - two long slightly curved prongs for moving loose material such as hay.
Drag Fork - tines are bent at a right angle. Used for clearing loose material from the ground,
Tarmac Fork - with 10 or more curved tines, might also be used for moving piles of leaves, potatoes, apples etc..
Find A Garden Fork To Suite Your Style Here... +
<!- PAGE TAGS AND T2 LINKS -->
You'll find lot's more pages of information on other gardening tools by following these links:-

To tackle large areas on your own,
You may not need manual digging tools if you have a garden rotavator,
They tackle stiff stony earth no problem,
Otherwise you may need enough digging tools for the family or your gardening community to work. - Or find a garden helper below (U.K.) below.
Check out my Garden Tool Shed for information on larger tools, power tools, and other useful gardening resources for the potting shed and garden.
Get more information about weed problems and how to tackle them.
ALSO on The Organic Gardener:- <!- START OF TAGS ++ START OF TAGS --> <!- END OF TAGS ++ END OF TAGS --> <!- END OF T2 LINKS ++ END OF T2 LINKS -->
My Neighbour's Garden
Do you run a gardening website - with information to interest my visitors? To set up exchange links from/to suitable pages - click here.



^Top of page