Hello, are you a busy gardener today?



I didn't get around to sending my gardening news recently. Instead I've been blogging on this page - my gardening diary. I recommend that you review it regularly for in-season news and tips about organic growing - and do send me your news too.

There were many distractions with social media... but now my garden is set for a big year. Organic Garden Diary

I hope that the storms have passed you by and that you weren't damaged too badly. Here we had a mild winter and now everything is on the March. Indeed some tender plants have survived.

You can also view this ezine online.

So I have one main message just now. I want you back at the Home of The Organic Gardener for an exciting growing year.

4 main topics I want to report over the coming months.

Organic Pest Control: you don't need pesticides, but you do have to be smart. I outline organic strategies to help you grow successfully.
There's more here.

Organic Lifestyle: how ordinary garden fashions are killing planet earth around your home. Many of us accept these without question.

Organic Vegetable Growing: Lots more information to add. Hopefully I will be able to post my chapters on growing vegetables organically.

Website Renewal: I will be renewing the whole of my website over the coming year (as far as possible).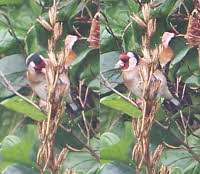 Get involved: Make my website into a real organic home online. That means I need to know more about your organic activities from growing to storage, preserving to cooking and how you eat and live to be healthy.
You can add to my website using the Content 2 link here or send me a message from this page.
Also - I have a new camera at last - so there's a surprise coming up on garden visuals.
Don't forget to plant this healthy crop - help in selecting potato varieties is here.
All the best to you for organic gardening.
From: Michael at The Home of The Organic Gardener
http://www.the-organic-gardener.com
Growing - naturally, pure & beautiful.
P.S. Romanesco Cauliflower like that pictured on my home page has regrown fresh heads after the first cuts and it looks great for eating just now.
View this gardening ezine online
Wishing You Happy and Healthy Gardening :-)
From: Michael at The Home of The Organic Gardener.