don't miss growing the most versatile kitchen garden crop
You'll be cheered through these winter days when you have a lovely potato crop like mine to pick through in store bags. And I have a few wholesome beetroot alongside them. Link to view online
How could I think of not growing potatoes and miss the pleasures of a mighty flavoursome kitchen and such interesting food? The choice in grow-your-own garden varieties really clinches it.
With my growing tips below - you'll find choice potatoes below for an American garden vv - plus my U.K. garden selection for this year. Also Below...
But don't delay, select your special garden potato - supplies are limited and choice varieties can sell out early.
For American gardens
Kennebec is excellent for storage and its potential tuber size alone makes it a choice baker that you can also boil, chip or fry. You'll find Kennebec online here

**TIP: Grow close spaced - 15 to 20 cm (just 6 - 9 inches) between plants and kill the vines. This recommendation is made to prevent oversized rough tubers. Keep a check on them and you'll see...

'Onaway' gives you early-season round tubers good for storage and organic growing. Resistant to blight and highly resistant to scab. Onaway has vigorous early growth and crops early too.

Try this Swedish Peanut Fingerling for a special heirloom variety perfect baked or roast. Add color to your meals with red or blue varieties. They're available on my links HERE.

Best value for money is on this link. And it's even better value the more you buy.

You can widen your choice of varieties with help from these links. - The mixed selections from the merchants I recommend are a safe bet to what grows well.
************************************
*************************************

For British & European gardens
Last year 'Juliet' proved productive as you'll see from the pictures on this link. But choice for UK gardeners is vast when you grow from seed potato tubers to take advantage.

British gardeners can try out more varieties by using smaller pack sizes available on this link. There are some outstanding online deals that beat catalogue prices if you SCROLL DOWN PAGE On This Link.

My selection this year is:
'Elizabeth' for growing close together - gave best performance in container trials with 30% more,
'Swift' is my choice for this year's early crop - ready in 8 weeks,
'Sarpo Mira' the top choice for blight and slug resistance,
Also I hope to grow a blue coloured variety like 'Purple Majesty' to cook with beetroot, parsnip and carrots,
For a versatile to cook and eat special I'll try to fit in 'Pink Fir Apple'.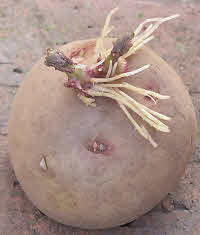 Check more British choices from my own web pages here at the-organic-gardener.com where you'll also find bag sizes for larger gardens.
Seasonal Garden Comments
There's an obvious difference between sunny and shady spots at this time of year. Plants in the sunny places are several weeks earlier.

So it's nearly time to place some fleece over the soil to warm it up before seed and planting.

My previous newsletter is online here.

Wishing You Happy and Healthy Gardening :-)

From: Michael at The Home of The Organic Gardener.